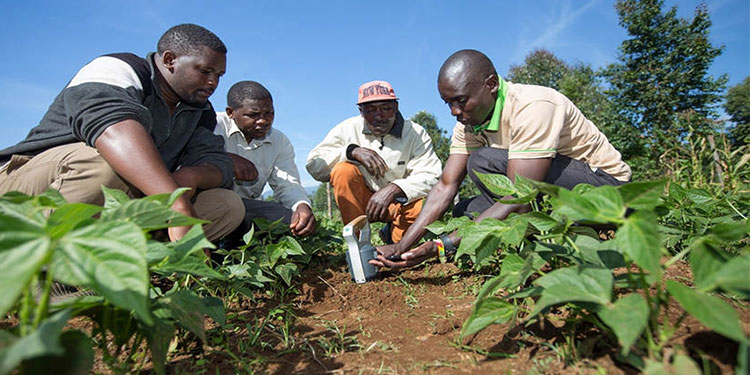 70 percent of Africans rely exclusively on income from agriculture. But with a rising global population and increasing pressure to double production by 2050, farmers are still struggling to keep up with demand. Faced with threats such as obsolete techniques and machinery, dry soil cracked from climate change and locked in an ongoing war with destructive plagues, farmers face odds stacked against them.
Technology, however, is initiating progress. Agritech solutions from around the world are pushing a new age in agriculture, seeing exponential investment, with start-ups rising 110 percent in the last two years and showing no sign of slowing down.
Microsoft partners with public and private agencies to develop programmes that facilitate better agricultural policy making. An example is the work of the Ministry of Agriculture in Kenya to bring cutting-edge technology to their agricultural communities. The organisation work with the Ministry of Agriculture, Livestock, Fisheries and Cooperatives (MALFC) in Kenya.
The Global Entrepreneurship Program of Microsoft supports the most capable agribusiness start-ups from around the world on an international scale. By helping small-scale farmers to build their own economic identity, enter lucrative markets and reduce crop damage, they are rallying together in an attempt to take another step closer to achieving Africa's agricultural promise.
Imagine developing the optimal growing conditions, without direct access to electricity, for your farmland. Thanks to the vision of start-ups such as SunCulture, that's the kind of positive impact agritech can bring to rural communities. With them, Microsoft installed revolutionary solar-powered irrigation systems to combat the unpredictable rainfall changes brought on by climate change. Sensors, cameras and drones will collect data from the land through intricate networks and produce customised recommendations for farmers from machine learning and IoT to linked devices.
Technology like this already has an outstanding track record, multiplying smallholder farmers' incomes by 10 times and growing their crop yields by 300 percent.
Being committed to equipping all local farmers with the equipment they need to succeed means providing a solution to any hardship; the toughest challenges vary from farmer to farmer, depending on geography and circumstances. Microsoft experts have built a mobile platform that gives farmers access to resources and government advice, generates recommendations tailored to their needs, and protects their livelihoods in the process, playing a key role in warding off Kenya's destructive crop pests.
"It's one thing to support farmers on the fields. We are also fostering inclusive economic growth by linking farmers to transparent food supply platforms such as Twiga Foods; opening up new markets and creating scale opportunities that would otherwise have been out of reach," said Amrote Abdella, Regional Director, Microsoft 4Afrika.
"We place financial independence and a prosperous future for farmers at the forefront of our technological solutions. Our partnership with N-Frnds drives growth across digital distribution networks and offers crucial information on weather forecasts, where to find seeds and at what price – so that farmers can increase their yields as easily as possible, Abdella continues."
"Our ventures are rising exponentially and helping to understand how much can be accomplished by digital transformation. We have pledged our technical and business support to the World Bank, with a common vision to bring one million farmers to the digital platform over the next three years, and to continue collaborating with the Alliance for the Green Revolution in Africa to bring food security to the countries that need it most," concluded Abdella.