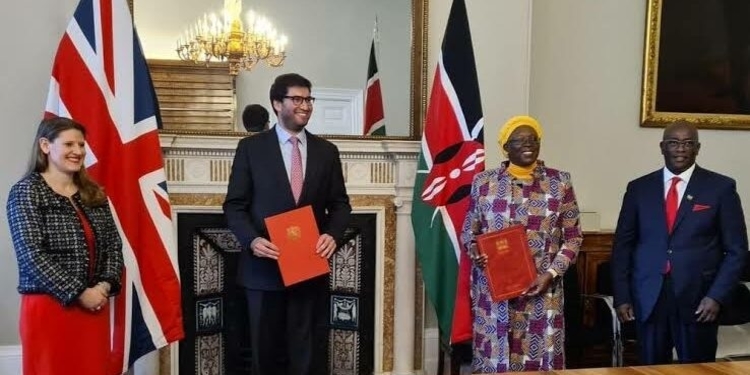 Under a trade agreement signed by the two nations, British firms will be able to export goods to Kenya tax-free for a duration of 25 years.
However, the post-Brexit trade agreement with the United Kingdom will open a window for British companies to flood the Kenyan market with finished and unfinished goods which exclude agricultural and industrial products at the end of the seven-year moratorium.
The trade agreement outlines were unveiled by the Ministry of Industrialization, Trade and Enterprise Development of Kenya, urging the Parliament to ratify the Economic Partnership Agreement (EPA) between Kenya and the United Kingdom of Great Britain and Northern Ireland (UK).
Nairobi concluded a post-Brexit trade agreement with the United Kingdom on 8 December 2020 to safeguard duty-free and quota-free export access after London officially left the European Union (EU) on 31 December 2020.
"Kenya is proposing to open up 82.6 per cent of overall exchange volume to the United Kingdom for an extended transitional duration (up to 25 years with a 7-year moratorium) consisting primarily of raw materials, capital goods, intermediate items and all other necessary goods," Cabinet Secretary Betty Maina said in an explanatory memorandum accompanying the EPA that was tabled in Parliament on December 22, for ratification.
Last week, the Trade, Industry and Cooperatives Committee of the National Assembly presented its opinion on its consideration of the EPA, setting the stage for discussion by the House. Kenya and the United Kingdom Parliaments are expected to ratify the deal in order to take effect, even as the House of Lords—the British upper house of Parliament has endorsed a resolution by its International Agreements Committee for a 21-day extension of the original ratification deadline of 10 February.
Kenya imports from the United Kingdom automobiles, equipment, nuclear plants, boilers, pharmaceutical goods, printed books, paper and paperboard, pulp and paperboard newspapers, pictures and drinks, spirits, and vinegar. It also purchases electrical, electronic equipment, textile articles, sets, worn clothing, miscellaneous chemical products, ships, boats, and other floating structures.
According to the Cabinet Secretary, the seven-year transition period protects emerging industries, as well as agriculture, manufacturing, and Kenya's business interests in the region.
Nairobi, she said, stands to benefit from an estimated US$205 billion in untapped UK market potential, compared to Kenya's current export level of 0.2 percent of the UK market value. "The Country, through the National Export Development Agenda, aims to increase Kenya's market share in the United Kingdom by 5% by 2025, this will equate to US$10.2 billion from existing exports to the United Kingdom, which amounted to US$355 million over the last five years from 2015 to 2019.," Ms Maina said.
The EPA concluded between Nairobi and London allows for absolute duty-free and quota-free market conditions for products originating from partner countries of the East African Community to enter the United Kingdom on a stable, long-term and consistent basis.