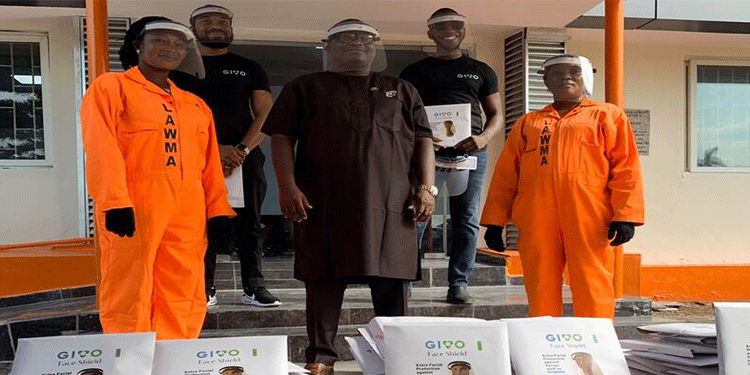 In Nigeria, a start-up is revolutionising the use of recycled plastics by shifting from pellet exports to domestic production of much-needed personal protection equipment (PPE).
Givo, which stands for 'Garbage In, Value Out,' collects and recycles waste from households, individuals, and businesses in Kenya and Nigeria, and has completely revamped its operations in the wake of the Covid-19 pandemic. Victor Boyle-Komolafe, the company's founder, remembers feeling inspired to make international standard PPE from recycled products, such as face masks and face shields.
With the support of the Orange Corners Innovation Fund in the Netherlands, a total of 10,000 masks have been made to date. 10% of the proceeds were donated to Nigerian nurses, physicians, and other health workers who are putting their lives on the line to combat the virus.
'We began in May 2020 and have since expanded beyond these things to produce other sustainable and aesthetically pleasing products such as flower vases, children's toys, and Christmas ornaments,' says Boyle-Komolafe, adding that Givo hopes to extend its product line even further.
'As a consequence of the pandemic, local production of vital products would become more critical. Local labour and raw materials are relatively inexpensive, resulting in lower production costs. As a result, our face shields are less expensive than imported ones of comparable certification and consistency.'
In the end, the entrepreneur hopes to make high-end plastics recycling a reality across Africa by implementing a circular economy across the continent. 'In the next five years, we want to recycle 150 million bottles,' Boyle-Komolafe says. 'We are working to expand the network of recycling centres, which can currently accommodate about 11.5 tonnes of plastic annually, to over 20 000 locations.'
Givo intends to achieve this through geo-tagging of all activities and material traceability; digitization of all processes on Internet-of-Things enabled devices; value addition through manufacturing semi-finished products; and community-based advocacy, engagement, and training.
According to Boyle-Komolafe, Nigeria have a few large landfills. Every year, its capital, Lagos, where Givo is based, generates approximately one million tonnes of plastic waste. 'We can only solve this problem if governments and local businesses collaborate to embrace the circular economy,' he asserts.