E S BATTERY (THAILAND) CO. LTD.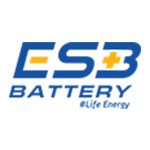 Company Name:
E S BATTERY (THAILAND) CO. LTD.
Short Business Description:
E S BATTERY (THAILAND) CO. LTD. TO SHOWCASE THEIR PRODUCTS AT 22ND AUTOEXPO KENYA 2019.
Long Business Description:
The company is managed with commitment. To produce quality batteries at the price that the customer is most satisfied with by choosing the raw materials that are selected through the production process that meets the standard while researching and continuous development. In the ISO 9001: 2015 "Quality" series, quality refers to the perfection of needs and safety. In use and also ensure that the service or their products have designed and manufactured to suit the needs of customers. They are strongly committed to developing quality products. Consistent and guarantee the quality of products for the highest satisfaction of customers. Ensuring quality for customer satisfaction and continuous improvement. Product quality is the duty of every employee.