Rhyton Solutions Gmbh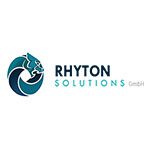 Company Name:
Rhyton Solutions Gmbh
Long Business Description:
Rhyton Solutions GmbH puts software, artificial intelligence, and data science to facilitate agility and intelligence in your business. Rhyton Solutions provide enterprises and businesses, intelligent information systems to achieve digital transformation. In order to do so, it bring together all your people, data, and systems into one place for a digitally-connected business and gather all organizational activities, processes, competencies, and models in one platform. This integrity empowers the companies to manage effectively and gain detailed insights and consistency of processes.