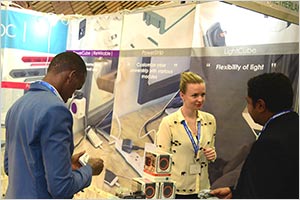 The development of Kenya has striked gold for global businesses to enter its flourishing markets. The growing demands especially in the consumer industry has a seen a major rise. The need of electronics, home wares, appliances, consumables etc is never ending. Paving a pathway for local and international traders, East Africa's mega trade fair KITE 2018 is all set to explore the opportunities available in the nation.
The 21st edition of the Kenya International Trade Exhibition (KITE), also known as CONSUMEX Africa, will take place at the Kenyatta International Convention Centre (KICC) in Nairobi from 4th – 06th September, 2018. Being a multi sector exhibition, it is the one stop station with access to over 150 exhibitors from 30 countries making it prime platform for trade and networking both locally and internationally. Renowned names from the European, Asian, African continent headline the event, with experts from the field engaging and interacting with over 5300 trade visitors.
The trade fair will showcase exhibits covering the agricultural sectors, medical & pharmaceuticals divisions, the plastic, printing & packaging industry, food & beverages industry, hospitality sector and more. Companies representing their country through associations and pavilions like Kenya, Lavitia,Germany, Belgium, India, China, Italy, Thailand, Malaysia, Turkey, UAE etc will also be present to offer solution and products in the field. Pakmaya (Turkey),Ohp Food Products Pvt. Ltd (Kenya),A T Haque Ltd (Bangladesh) ,Wardat Al Mashreq Food Factory (KSA)), A.M.R.P. Handels Ag (Switzerland) MTC Plastics Industries (Kuwait), Porta Misr (Egypt), Al Jabri Plastic Factory (UAE), Rynan Technologies Pte Ltd (Singapore), The Navigator Company, SA (Portugal), Euro-Hel (Poland), Robert Rontgen GmbH (Germany), Rajshree Fabrics(India), Nanmu Yarns & Threads Mfg. SDN. BHD. (Malaysia), Spident (Korea), Spigot Software Pvt Ltd (India), Foracare Suisse AG (Swizerland), Rivit Fasteners & Tools (Italy) and many more.
"With increase in purchasing power and progress in the consumer market, there has been a tremendous increase in East Africa's GDP, thus rising opportunities in a variety of sectors." says Mr. Daniels, Exhibition Manager – Expogroup. The event will be graced by delegates and dignitaries from various government organizations and embassies, including Nigeria, Brazil, Algeria, Qatar, Poland, Ethiopia, Thailand and many more.
KITE is by far largest trade exhibition event in East Africa that delivers the same quality, quantity and variety of buyers and distributors throughout the region. This being the 21st edition, the expo will be the ultimate testament to Africa's call for opportunities and excellence.
For information visit: https://www.expogr.com/expokenya/
Joel D'silva
Media Manager
Expogroup
Email: feedback@expogr.com
Int'l: +971 50 634 1066| Kenya: +254 792268513