AECI MINING TANZANIA LIMITED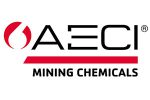 Company Name:
AECI MINING TANZANIA LIMITED
Long Business Description:
AECI Mining Explosives is a world leader in the manufacture and supply of explosives, initiating systems and blasting services for mining, quarrying and construction. In the mining industry, they have a wealth of experience across the spectrum of mining methods and minerals including coal, chrome, gold, iron, platinum and uranium. They offer the latest generation of products and services for blasting operations.