SIEX 2001 S.L. – KOMTES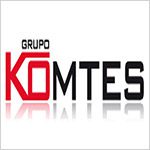 Company Name:
SIEX 2001 S.L. – KOMTES
Long Business Description:
Komtes Group offer comprehensive protection covering all facets to a fast and effective response to fire; including detection systems and smoke control, zoning, autonomous suppression systems, fire control and extinguishing, manual means and additional accessories for evacuation, among others. Their goal is to offer complete solutions, tailored to each project, with the highest level of technical and commercial support in the industry.