SARAY BISKUVI VE GIDA A.S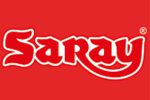 Company Name:
SARAY BISKUVI VE GIDA A.S
Long Business Description:
Saray the beloved biscuit brand which is one of the biggest companies in the snack market of Turkey is continue its journey towards globalization, entering the African market. The flavour story that continued with guest candies, toffee candies, hard candies and Turkish delight production at 1979 is continuing with more than 400 product spectrum suitable to the taste of customers. Saray which owns the well-known brand title since 1995, made production more than 50 thousand tons annually in the biscuit, wafer, chocolate, cake, cracker and candy areas and also deliver these products to its customers.