Venkateshwara Hatcheries Pvt. Ltd.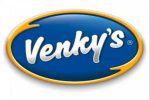 Company Name:
Venkateshwara Hatcheries Pvt. Ltd.
Long Business Description:
Venky's Chicken Xperience is a part of the prestigious VH Group which was started in the year 1971. VH Group is the leading supplier of poultry products to food chains in India and is present in more than 30 countries. The group is the largest poultry company in Asia and has been serving the world with quality poultry supplies for decades. With an aim to bring delicious chicken products to food lovers, Venky's ventured into the F & B segment through Chicken Xperience. Venky's offer various types of chicken and chicken-based food products which are juicy, tasty and delicious. These products are available in frozen form as well as ready-to-eat formats.