TRIO CRAFT HOME DECOR TEXTILES AND CARPETS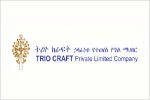 Company Name:
TRIO CRAFT HOME DECOR TEXTILES AND CARPETS
Long Business Description:
Trio Craft Plc, is more than 10 years in full operation (2005). Trio Craft Home Decor Textiles and Carpets deal with Hand loom textile for Home Decor and ladies' accessories. They mainly concentrate on promotion of Ethiopian handmade cotton products to encourage and develop the skills and lifestyle of women and youths. They combine the best creativity, nature proven ways and organic inputs to bring beautifully decorated masterfully embroidered and hand woven fabrics. Trio Craft offers 100% cotton and handmade quality tops, handbags, scarves, coffee dress for ladies and we weave rugs, fabric for curtains, bed cover Duvet, table mats and runner cushion covers.