GALEMED LIMITED TAIPEI BRANCH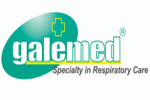 Company Name:
GALEMED LIMITED TAIPEI BRANCH
Long Business Description:
GaleMed has become one of the leading respiratory medical device companies in the world. GaleMed is actively involved in the design and development of airway management products and has assisted many healthcare professionals in saving precious lives by constantly adding innovative ideas and solutions to its portfolio. GaleMed explores every possibility within each respiratory management domain. GaleMed has been involved in developing, manufacturing and marketing respiratory care products.