Power Diagnostix Systems GmbH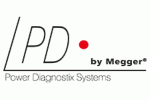 Company Name:
Power Diagnostix Systems GmbH
Long Business Description:
Power Diagnostix Systems GmbH provides high-quality instruments and engineering services for high-voltage diagnostic applications. Having started with DG Instruments GmbH in 1986, the company has built a solid reputation in the field of special measurement and monitoring devices for high voltage and pulse power engineering. Since the market introduction of the partial discharge detectors in early 1993, nearly 3000 digital PD detectors have been sold in total. Since June 2019 Power Diagnostix is part of the Megger Group.