ROCKMORE INTERNATIONAL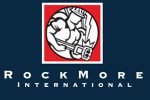 Company Name:
ROCKMORE INTERNATIONAL
Long Business Description:
Rockmore International is one of the world's leading manufacturers of top quality percussive rock drilling tools. Their high-performance products include drill bits, DTH hammers and bits, extension and tunneling rods, integral and tapered rods, shank adapters and other drill tool accessories. With manufacturing centers in two hemispheres and distribution centers on nearly every continent Rockmore International provides a wide range of tools to mining, construction, tunneling, quarrying, and water well projects from North America to Asia, and from the Alps to the Andes.