CHANGSHIN INTERNATIONAL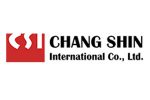 Company Name:
CHANGSHIN INTERNATIONAL
Long Business Description:
Chang Shin International is a well-known manufacturer of high quality drilling equipment in Korea. Since 1993, we have manufactured various drilling equipment such as drilling rigs, hammers, bits, and most of auxiliary drilling equipment for your successful business. Customers from more than 40 countries around the world have guaranteed the quality of our wide ranges of drilling products. CSI hold several patents and certifications that certify its excellence and credibility in the field. And we sincerely promise a high-quality product that never compromises with anything. CSI are now here for your successful business with cutting-edge technology and plentiful experience for sharing the benefits together.