Permali Wallace Pvt. Ltd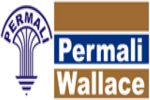 Company Name:
Permali Wallace Pvt. Ltd
Long Business Description:
Permali Wallace Private limited was established in 1961 in Technical and Financial collaboration with Permali Limited, Gloucester, U.K. and Chase Lowe & Co., Manchester, U.K. In 1982 they entered into another Technical collaboration with BTR Permali RP Limited U.K. for developing Sheet Moulding Compounds, Dough Moulding Compounds and components thereof. They started as manufacturers of wood based densifed impregnated laminates for Industrial and Engineering applications.Now They have also extended their products range and this can broadly be described as ranging from wood Veneer based Components, glass reinforced composites SMC & DMC moulded components, cotton fabric composites, composites using combination of both glass and wood compreg, other composites using high tech fibres .