TOM-TOM DISTRIBUTORS INTERNATIONAL LTD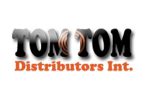 Company Name:
TOM-TOM DISTRIBUTORS INTERNATIONAL LTD
Long Business Description:
TOM TOM are the TRUSTED DISTRIBUTORS in AFRICA for ECHO Incorporated products owned by The Yamabiko Corporation, Japan. ECHO Incorporated has been a worldwide leader in the development and manufacture of professional-grade, hand-held outdoor power equipment for both the commercial and homeowner markets. For over 60 years, ECHO have been designing and building high performance, commercial quality products. From humble beginnings in Japan with a simple hand-held crop duster, the company has grown to become a technological leader and well-respected global brand.