EcoPhi Renewables Engineering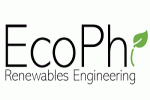 Company Name:
EcoPhi Renewables Engineering
Long Business Description:
EcoPhi is a young, multicultural company that specializes in remote monitoring solutions for remote regions in developing countries. EcoPhi has years of experience in the renewable energy sector and offers not only individual products but complete all-in-one solutions. Sophisticated and easy-to-install hardware, the online platform with connection to external data and other services enable you to run your projects efficiently.