ZYPHAR'S PHARMACEUTICS PVT. LTD.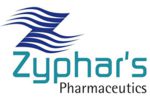 Company Name:
ZYPHAR'S PHARMACEUTICS PVT. LTD.
Long Business Description:
Zyphar's Pharmaceutics exemplifies a journey traversing through the challenges faced by the medical fraternity, applying process innovation with zeal and determination to deliver innovative products in therapeutic segments such as Critical Care, Oncology, Anti-Malarial, Anti-Retroviral and a wide range of branded generic products manufactured in state-of-art cGMP compliant facilities for the benefit of the patients.
Professionally managed Zyphar's Pharmaceutics is driven by a passion to create the most "customer-centric" company, an edifice built on corporate values of business ethics and integrity creating value for all the stakeholders, customers and employees.guides Zyphar's business strategy to foster vibrant alliances and partnership at local market levels across the globe, consolidating global scalability and local insight to grow on a solid foundation of trust, transparency and teamwork.
Zyphar's societal commitment extends to creating the most enabling, high-energy and fast-paced work environment in the true spirit of teamwork and community where work is a challenge and challenges are fun.