KAYALAR KIMYA SAN. VE TIC. A.S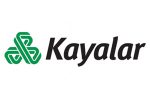 Company Name:
KAYALAR KIMYA SAN. VE TIC. A.S
Long Business Description:
Kayalar Kimya is one of the leading Turkish companies that supply raw materials in several areas from food items, textile, automotive to pharmaceuticals. The company is also present in architectural paints sector with German paint brand Dufa and in industrial paints sector with Genc Noroo brand which is created by partnering with Noroo, one of the leading paint manufacturers of the Far East. Woodsol is the newest brand of Kayalar Kimya introducing water-based exterior wooden paints and varnishes.