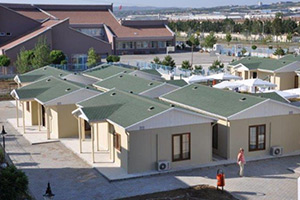 The government of Zimbabwe has entered into partnership with the China Industrial International Group Zimbabwe (CIIG), to construct low cost houses using steel technology.
The Ministry of Local Government, Public Works and National Housing Development have already signed an MOU the CIIG to build as many low cost houses as possible.
Also read:Construction of low cost houses booms in Kenyan city of Mombasa
Speaking after a tour of the model houses, at CIIG premises in Harare, the Minister of Local Government Saviour Kasukuwere said, the houses which are modelled around eco-friendly materials were a welcome development in Zimbabwe due to their affordability.
He indicated that they were satisfied with the standard of houses that are being built using this technology.
The houses will cater for civil servants and other low income earners across the country and will go a long way in narrowing the housing backlog. This will also ensure that Zimbabweans have decent shelter.
"The project should be starting soon, as all the formalities have been concluded", the Minister confirmed.
Also read:Galway firm plans to construct 5,000 low cost houses in Nigeria
The total cost for developing the houses is 30% less than the conventional houses. The houses are said to have a lifespan of at least 150 years.
The government would like to combine capacity as a nation and the technology available to ensure they provide shelter for everyone.
CIIG Chief Executive Officer, Mr. Nie Hai Yang indicated that the houses can be constructed within seven days and come with solar furnishings to enhance energy efficiency.
In addition to this, CIIG has also developed septic tanks using eco-friendly material, which do not contaminate underground water bodies.
Residents are able to use chemicals to disintegrate solid waste from the septic tank and use the water for agriculture purposes.
Minister Kasukuwere confirmed that they had written to the Chinese authorities and once approvals have been attained, the development would start moving.