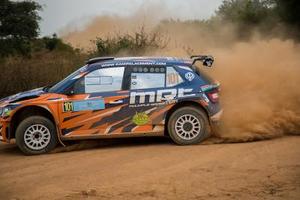 Julienne Uwacu, Minister for Sports and Culture, officially flagged-off the itinerary of the 2017 Rwanda Mountain Gorilla Rally at the Kigali Convention Centre.
The Rally is organized by the Rwanda Automobile Club as a National Rally Championship and also the sixth round on the African Rally Championship calendar.
This year's edition has attracted 19 drivers from different countries including; Rwanda, Kenya, Zambia, Uganda and Burundi, and it has been sponsored by Bank of Kigali, Akagera Aviation, Akagera Business Group, Radisson Blu, Ministry of Sports and Culture.
Rwanda Automobile Club (RAC) president, Christian Gakwaya, expressed his gratitude to the government, the sponsors, drivers as well as presidents of rally federations in the region, FIA and rally enthusiasts for the continued support.
The guest of honour at the ceremonial, Minister Uwacu said she was happy to get good reports from FIA officials praising Rwanda's effectiveness in organizing the annual Rwanda Mountain Gorilla rally.
Rwanda was ranked third in 2016 in the African Rally Championship events after South Africa and Zambia.
The highest number of participants are coming from Burundi with six crews, including last year's winner, Valery Bukera as well as Rudy Cantanhede, who has won the rally three times in 2004, 2008 and 2010.
Hosts, Rwanda are being represented by; Gakuba Diotis Tassos and Kayitankore Lionel (Toyota Corolla), Jean Claude Gakwaya and Jean Claude Mugabo (Subaru Impreza), Christopher Nizette (Subaru Impreza), Regis Karingirwa and Fabrice Nyiridandi (Toyota Celica).