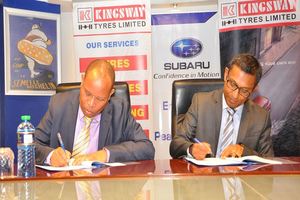 This agreement provides genuine parts and services to all Subaru at all Kingsway Tyres Service centres in Nairobi, Mombasa, Thika and Kericho.
According to the agreement, Kingsway Tyres Service Centres will stock and sell Genuine Subaru parts and provide the same warranty as per Subaru Global's Terms and conditions. Kingsway shall also provide Subaru vehicle servicing at the approved standard.
"Building this strong relationship with Subaru Kenya, we are happy to serve Subaru motorists, closer to their locations by providing our large Service Centre network," Kingsway Tyres CEO Aashit Shah says.
Shah says that he is confident that the Kingsway Tyres Service Centres will be a great hub for Subaru owners to be able to get the best quick service under their Service Plus using genuine Subaru parts.
General Manager of Subaru Kenya, Mr Naftali Mwangi has said Kingsway's strong network and experience in the automotive industry will deliver excellent service to every Subaru owner across the country.