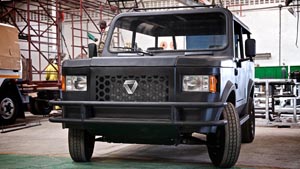 This loan is a part of 11 million US dollars finance that the firm received from the different investors, which includes NY based PAN African Investment Co.
Mobius is planning to launch their Nairobi Factory by mid of this year. This factory is going to operate end-to-end production which includes vehicle frames, anti corrosion treatment to general assembly, painting and final quality testing. With this launch, they're expecting to manufacture an additional 1900 vehicles by 2019.
"With our first generation model, we proved that a car can be designed, developed, and built here. As we prepare to launch our new Mobius II model, the stage in our evolution is to establish our own production capacity," Said Joel Jackson, chief executive officer of Mobius Motors.
They have already received their first pre-order in August 2016 for Mobius II (a vehicle with advanced features), which is priced at approx. 15,737 USD.
"Mobius has developed an innovative solution to the shortage of affordable transportation in Africa, which is one of the biggest hurdles to economic growth," said Ray Washburne, OPIC president and CEO.