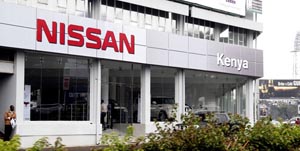 Nissan, The Japanese automaker, is to submit a proposal to Kenyan Government, once their market studies and assessments are done and if the government approves, they'll start their operations by end of 2019. They're targeting Kenya now after Volkswagen AG, PSA Peugeot and CNH Industrial NV.
"We will initially put together pick-up trucks from semi-knocked-down kits, or SKDs, if the government agrees to waive a 25 percent import tax" says Jim Dando, director of Africa operations for Nissan.
They would work in an already established plant for Semi knocked down kits or SKDs, which would cost them close to 20 million USD. However an established plant for completely knocked down kits or CKDs would cost about 100 million USD which is half the cost of a completely new set up. This will help cut the cost and get sales better.
"We're prepared to enter Kenya as an SKD assembler. We're keen to move quite fast. We want to make this happen." Dando said.
Plants that they're considering are Isuzu East Africa Ltd., Associated Vehicle Assemblers Ltd., Toyota Tsusho Corp. and Al-Futtaim Group.
Nissan, for now, wants to only assemble the vehicles that are half-finished than manufacturing vehicles end to end in Kenya.
Once the Kenyan plant is operational, it will serve the East African market which is currently being served by imports from SA and Japan.