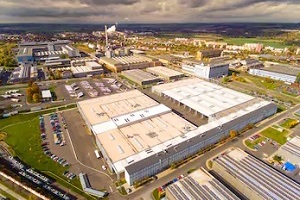 An agreement was signed between the China Civil Engineering Construction Corporation (CCECC) and Ethiopia's Dire Dawa city administration for the construction of a USD 500 million industrial park in the city.
The 1000 hectares industrial park project agreement was signed by Deputy Mayor of Dire Dawa city administration, Ahmed Boh and Guo Chongfang, CEO of CCECC.
The first phase of the construction will cover 370 hectares of land, and remaining will be cover in subsequent phases. The park will mainly be used for textile manufacturing.
Dire Dawa city administration told that construction of the park commences soon, and it will create ample job opportunities for the residents.
Deputy Mayor has appealed to residents and the government to contribute their shares on the project for its successful completion.
Recently Deputy Mayor Ahmed Buh has visited Kunshan in China to discuss ways to strengthen the economy and social reforms and agreed to construct the industrial park and engage in investment activities.
Chinese investors are continuously increasing their ownership in Ethiopia's industrial parks in the past few years and stated increase economic ties with Ethiopia in the coming years.