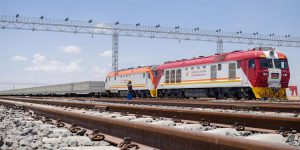 Through the Ministry of Housing and Urban Development, Kenya's government is inviting bids to construct the proposed Nairobi Railway Project, which is intended to extend the Central Business District. This tender notice comes around two months after the announcement of the formation of the Railway City Development Authority (RCDA), a special purpose vehicle for the project, and an implementation committee that would lead the Authority's activity, create a structure for the railway city's updating and identify anchor projects and investors.
According to the ministry, all bids from interested and suitable individuals have to be received on or before August 20th of this year.
The iconic multi-modal, transit-oriented urban development project is part of the Nairobi Integrated Urban Development Program, consisting of a new railway station that allows for the convergence of BRT and other public transport modes as well as other commercial projects including skyscrapers, residential apartments, a cultural center, and a museum. It will be built on a 425-acre piece of land extending from Haile Selassie Avenue, Uhuru Highway, Bunyala Lane, Commercial Street and Landhies Lane in three phases over a 20-year period.
The first stage includes the construction of meeting rooms, reward conferences, and exhibits along Bunyala Avenue. This process will take place from this year until 2023. The second stage will be the development of an economic zone containing hi-tech manufacturing and small and medium-sized enterprises while the final stage, the East core, will be the development of a residential complex with a school, park and affordable housing units. Once completed, the free economic zone is expected to create more than 200,000 job opportunities while the residential complex is expected to accommodate about 28,000 residents.
The project will be the biggest and most ambitious development ever undertaken since independence in the metropolitan area, and it is expected to draw private local and foreign resources.