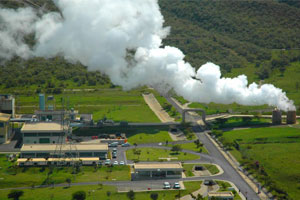 The Kenya Electricity Generating Company (KenGen) plans to insert 721Megawatts (MW) of electricity from geothermal and wind resources to the national grid in the coming five years at a cost of US $ 7.9 billion as part of its green energy programme.
KenGen MD and CEO Albert Mugo said the supplementary capacity was in line with the government's efforts to make power available and inexpensive.
He said the company has already secured some financial support from development partners and internal resources while other funding opportunities are being explored.
In June the company productively raised Sh26.4 billion through a Rights Issue, whose proceeds will go into the development of the energy projects.
The projects lined up for conclusion by 2020 include the Olkaria V 140MW, Olkaria VI 140MW, Olkaria VII 140MW, Olkaria I Unit 6 70MW, Wellheads 25MW, Olkaria I Rehabilitation 5.7MW, and Olkaria I AU & IV topping plant 60MW.
The Meru Wind Faze I 80MW, Geothermal Wellheads 50MW and Ngong III project 10MW are already at an advanced phase.
"With our internal well outfitted and inspired workers coupled with necessary financial support from our bilateral partners for the projects in the pipeline, KenGen is well positioned to deliver on pledge and persist to be the market leader in the provision of competitively price electric energy in the nation," said Mugo.
KenGen is also looking into other businesses under the new business initiative that tries to advance our revenue stream from non-generation based revenue and has identified an industrial park in Olkaria region.
The development of the KenGen Industrial Park will not only aim at the optimization of KenGen business operations, but also support the governments' industrialization plan as a pillar for economic growth and creating jobs.
Mugo said the Industrial Park will act as one of the drivers for regional growth and will generate noteworthy employment opportunities.
KenGen's Chairman, Joshua Choge announced that the planned projects resulted into the decision of the Board of Directors not to advocate dividend payment.
Choge emphasized the dedication of the company to grow shareholder value as seen by the strong full year performance. The energy utility recorded revenue of Sh38.6 billion and a pre-tax profit of Sh11.26 billion during the fiscal year ended June 30, 2016.
Aggreko power deal KenGen invests US$ 7.9 in green energy projects.