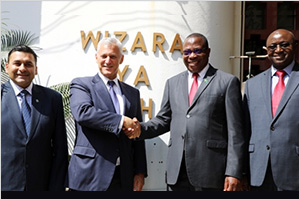 Dar es Salaam — British multinational banking conglomerate, Standard Chartered Group will extend a $1.46 billion loan (about Sh3.3 trillion) to Tanzania, for constructing the second-phase of the standard gauge railway (SGR) from Morogoro to Makutupora in Dodoma Region.
Following a government announcement and speaking on the development in Dar es Salaam yesterday, Finance and Planning minister Phillip Mpango confirmed that that Standard Chartered Bank Group chief executive Bill Winters had communicated that the bank had agreed to grant the loan to Tanzania. Mr Winters arrived in Dar es Salaam yesterday as a part of his regular visits to various countries where Standard Chartered Bank operates.
The first phase of the SGR project runs from Dar es Salaam and Morogoro. This will then be built up to Makutupora in the second phase. In the later phases, it will connect the SGR to Isaka and Mwanza – and, ultimately, to Rusumo, working in close cooperation with Rwandan counterparts until it reaches Kigali. Work on the Dar es Salaam-Morogoro phase of the $1.92 billion high-speed electric railway is progressing well, with the Turkish firm Yapi Merkezi Insaat VE Sanayi As building the 422-km (262-mile) part of the line.
Earlier in March this year, President John Magufuli laid the foundation stone for the Morogoro-Makutupora section, covering 426 kilometers during which he said that the SGR would create 30,000 direct employment opportunities and some 60,000 indirect jobs upon completion. The total cost of the project from Dar es Salaam to Mwanza is estimated at USD 7 billion.
MAjor projects apart from the SGR in the working include the purchase of state-of-the-art passenger aircraft for the national carrier, Air Tanzania Company Limited (ATCL) and the 2,100MW Stiegler's Gorge hydroelectric project.
Tanzania is seen as only second to Brazil in terms of having the highest number of tourist attractions in the world. However, the country receives less than two million visitors in a year. There is a major need for action so that the tourism sector brings in more of the much-needed foreign exchange earnings for the general good of the economy.
The bank has also promised to help invite other international lenders into the country also contributing to Tanzania's economic development. "As a bank, we have the noble duty of ensuring that we play a significant role in financing (the country's socioeconomic development)," said Mr. Winters. During the meeting with Dr Mpango, Mr Winters was accompanied by the CEO of Standard Chartered Bank in East Africa Lamin Manjang and Standard Chartered Bank Tanzania managing director Sanjay Rughani.