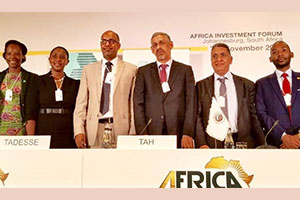 With over 80 per cent of the international institutional investors in Catalyst Fund II having already been investors in its first fund, Catalyst increased investment commitments from its existing investors by over 30 per cent, while attracting capital from new international and regional investors including local pension funds and family offices.
According to Catalyst CEO, Paul Kavuma, the increased investment by International Institutional investors is a mark of confidence in the economic potential of the East African region.
The United Nations Conference on Trade and Development (UNCTAD) data shows the East African Region accounted for 18 per cent of Africa's Foreign Direct Investment (FDI) in 2017.
In launching its second fund, Catalyst cements its position as the leading regional private equity fund manager with the largest pool of funds under management amongst its peers dedicated to the East African region.
The East African Region is the continent's fastest growing region by GDP, a factor that continues to attract investors," Mr Kavuma said.
With commitments from regional investors increasing by a factor of 50 per cent for Catalyst Fund II, the emergence and mobilization of local capital marks the coming of age of the regional private equity industry.
East African Community and Regional Development Cabinet Secretary Adan Mohamed who officially presided over the Catalyst Fund II closure noted that the regional Private Equity subsector has shown tremendous growth over the years, with more firms expressing interest in the development of regional economies.
He said the Kenyan government will continue to undertake reforms aimed at improving the local business environment, while seeking to enter into trade agreements and blocs that expand the market for local companies.
The creation of this market will enable the continent to deepen intra Africa trade while at the same time creating growth opportunities for mid-size companies.
Beyond the reforms the government continues to invest in infrastructure both locally and as part of the East African community through initiatives such as the Northern Corridor project to ease connectivity for business.
The fund will focus on Kenya, Uganda, Tanzania, Ethiopia, Zambia, Rwanda and the Democratic Republic of Congo.
Catalyst Fund II, Catalyst Principal Partners will seek to grow more businesses to access innovative financing solutions, while offering value beyond capital to develop leading regional champions of scale.