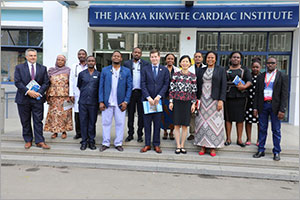 Cardiovascular complications are among non-communicable diseases that are on the rise in Tanzania and elsewhere in the region and hence the need to expand JKCI to enable it to cater for treatment of heart diseases.
In order to come up with the solution for this diseses treatment, the facility of extension of the Jakaya Kikwete Cardiac Institute (JKCI) at Mloganzila is planned which will help region to become a Medical Tourism hub, on the other side it will be a service to the children.
This new planned facility at Muhimbili National Hospital (MNH) will not only provide treatement to the local patients but will also extend services to neighbouring countries like Kenya, Uganda, Rwanda, Zambia, Malawi and Comoros and among the others.
According to the Executive Director of JKCI, Prof Mohamed Janabi, the health facility has so far attended to 227,738 patients since it was established three years ago in September 2015.
Among the patients, 1,025 underwent major and minor heart surgeries at the institute. At 1,025 heart surgeries, Tanzania is the second country in Sub-Saharan Africa after Namibia, apart from South Africa, to have conducted such big number of operations, Prof Janabi explained.
All the drawings and proposal of the new hospital have been completed and submitted to the government of China.
Prime Minister Kassim Majaliwa had requested the President of China, Mr Xi Jinping, to support the expansion of JKCI during the Beijing Summit of the Forum on China-Africa Cooperation (FOCAC) held in September, this year.
"Apart from the extension of the cardiac institute, we also requested our Chinese friends to enable us to improve our capability in manufacturing of medicines, medical equipment and training of personnel," Dr Mahiga, who accompanied the PM at FOCAC", stated.
Earlier, Dr Mahiga expressed appreciation to China for continued support in eradicating the three enemies mentioned by the late Father of the Nation Mwalimu Julius Nyerere, namely poverty, diseases and illiteracy.
"Tanzania and China have had uninterrupted friendship all along. China has been granting us multi-faceted assistance to fight the three enemies," the seasoned diplomat stated.