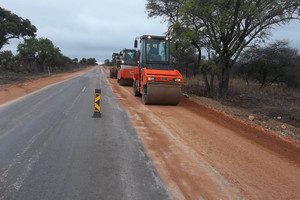 Kenya's Bomet County government has allocated US $6.4m towards the construction of roads and bridges across the county in an effort to ease movement of people and fresh farm produce to market.
Bomet Central Sub-County, Governor Joyce Laboso, during a tour of Morit Bridge in Chesoen confirmed the reports and said her administration is directing the funds to expansion and maintenance of roads in the region.
Governor Laboso said," We have allocated US $6.4m for the construction of roads and 10 bridges in all the 25 wards in the county in the 2018/2019 financial year. It is only through expansion and improvement of infrastructural facilities that the county can attract investors."
Roads Maintenance Levy Fund
Part of US $1.5m from the Roads Maintenance Levy Fund (RMLF) has been allocated towards industrial development in the county. Kenya Rural Roads Authority and Kenya Roads Board have also partnered with the county government to build various urban roads at a cost of US $2m.
Four bridges whose construction has been in abeyance after contractors who won tenders in June 2018 failed to implement the projects in the last six months have been re-advertised. The four bridges are Muriasi bridge in Boito/Kimulot wards, Nukiat box culvert in Kapletundo Ward, and Siomo-Targambei bridge in Embomos Ward.
Additionally, Dr Laboso said that her administration has invited contractors to bid for the spot patching entailing base reinforcement, pot hole patching and drainage opening of the 1.9-kilometre access road to Tenwek Hospital and warned contractors against shoddy work in the county saying they will be blacklisted ensuring value for money for the public.