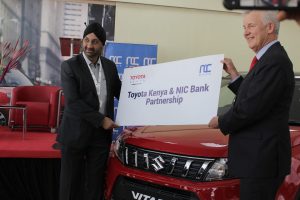 Toyota Kenya has started selling seven Suzuki car models following its appointment as the second dealer of the Japanese automaker in Kenya besides CMC Holdings that has been the sole franchise holder.
Toyota, which is rated second in Kenya's new vehicle segment with a market share of 27.6 per cent, plans to use its wide allocation network and marketing muscle to grow sales of the Suzuki cars.
Prices of the Japanese car models, containing Alto, Ciaz, Swift and Vitara will range between Sh835, 000 and Sh3.7 million inclusive of VAT.
"We have constantly developed a large network across the country by expanding the number of our showrooms and getting new partners as well.
This will enable that Kenyans from every corner of the country will get an opportunity to own a brand new Suzuki model," Managing director of Toyota Arvinder Reel said. "Through this network, our Suzuki customers should rest easy knowing that spare parts and our expert after sales service team will be within reach."
CMC's sales of Suzuki cars stood at a paltry 25 units last year after plunging 66.6 per cent from 75 units in 2017, according to data from the Kenya Motor Vehicle Industry Association (KMI). The sales performance excludes the Suzuki Alto models acquired under a deal with Uber and partner banks.
Toyota mentions that it has started selling the Suzuki cars at its Nairobi showroom, also adding that they will be made available in other branches in the near term.
The new franchise improves Toyota's presence in the passenger car market where it has been selling its namesake models including Corolla and Fortuner.
It also marks the company's latest development in the local new vehicle market following procurement deals by its parent company Toyota Tsusho Corporation.
The conglomerate in 2013 captured Kenya's DT Dobie and CICA Motors.