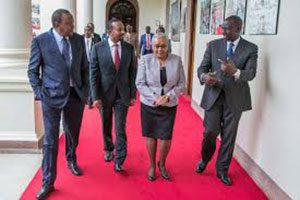 President Uhuru Kenyatta with Ethiopian PM Abiy Ahmed attend the Kenya-Ethiopia Trade and Investment Forum in Addis Ababa on March 1, 2019 as they revive commitment on Lapsset.
The Lapsset project involves building of railway, electricity, roads and the Lamu Port.
Kenya and Ethiopia have revived their promise and commitment to implement joint infrastructure projects as an important enablers of the two economies.
President Uhuru Kenyatta and Ethiopian Prime Minister Abiy Ahmed said that the regional extreme responsibility, the Lamu Port-South Sudan-Ethiopia Transport Corridor (Lapsset), is central to the unlocking of the economic potential of the entire East African region.
Speaking when they arrived at the official opening of a two-day Kenya-Ethiopia Trade and Investment Forum in the Ethiopian capital Addis Ababa, the two leaders commited to deepen trade and economic ties between the two countries.
"In my mind, the Lapsset project has great responsibility of transforming our countries and improving the living conditions of our people", president Kenyatta said.
"Kenya and Ethiopia are firmly determined to partner in developing first class infrastructure projects collaborating our great nations and the region. By this I have in mind the Lapsset project which Kenya is, for sure, still totally committed to," president Kenyatta added.
Top on the joint infrastructure responsibility is the Moyale Joint City and Economic Zone project.
The two leaders called for the fastracking of the ongoing change of Moyale town into a cross-border trade hub in the region in line with the 2012 "Special Status Agreement" (SSA).
Among the Kenyan companies are other regional lender KCB Group and giant telco Safaricom, that have earlier shown interest in investing in Ethiopia.
Mr Kenyatta invited the Ethiopian private sector to invest in Kenya.
"The Big 4 Agenda, on Food security; Affordable Housing; Manufacturing and Affordable Healthcare offers concrete investment opportunities and I welcome the Ethiopian private sector to partner with us," President Kenyatta stated.
"Opportunities are now broad open for Kenyan companies to invest in energy and aviation in Ethiopia," Dr Abiy said.
"At the same time, a great potential awaits Kenyan investors to inquire into our agro-processing, textile and garment manufacturing all over the country," he added.
Dr Abiy said, "Ethiopia was open to Kenyan investors and called for making the trade relations between the two countries stronger.