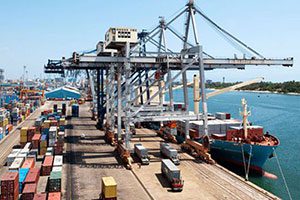 Construction of the proposed New Kampala Port at Bukasa, Kira in Wakiso District of Uganda has been approved by National Environment Management Authority (NEMA).
The actual project will be lay down in June as the estimated construction work on this project is to cover an area of 465 hectares.
The port is expected to connect Kampala to Dar es Salaam by water and reduce transport costs among the two destinations.
Since the project will be executed in three phases and the first phase will involve construction of the port, administration jetty, free trade zone, shunting yard and two berth multipurpose terminal and a two berth Roro terminal. Phase 2 will extend the multipurpose terminal by an additional two berths to a total quay length of 540 meters by 2030. The last phase will extend the quay length of the multipurpose terminal to 960 meters by 2040.
Land where the port will be constructed is 60 per cent a wetland. Which means the construction will come with damage of different species. However, the project will co-exist with the natural environment and that the environment mitigation measures have been put in place including leaving part of the wetland and other green spaces. The land is occupied by people where the port will be built.
Cargo handling is expected to start by 2030.The port is anticipated to start handling both export and import cargo by the start of 2020.