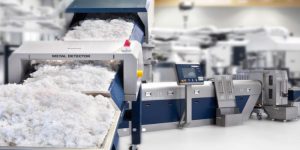 FTSE 100 packaging and paper company, Mondi Group, has given a financial boost to a Kenyan company that turns plastic waste into affordable home roof tiles.
Mondi has Chosen Eco Blocks and Tiles as the Lead2030 SDG 12 challenge winner and will award the Kenyan startup with financial investments of $50,000 in addition to
12 months of business coaching, to equip the company with the expertise to grow.
One Young World, the global forum for young leaders, launched Lead2030 in November 2018 to support youth-led innovation in contributing to the Sustainable Development Goals (SDGs) of the United Nations. Powered by some of the world's leading businesses, Lead2030 aims at finding, funding and accelerating youth-led solutions for each of the global goals and allowing young innovators to scale and accelerate their impact.
Eco Blocks and Tiles combines plastic waste with sand to make roofing tiles in Kenya affordable, durable and environmentally friendly. The company sold 50,000 roofing tiles in 2018, its first operating year, and recycled about 50 tons of plastic waste. The company has the potential to increase output up to 20 times with Mondi's funding.
Eco Blocks & Tiles predicts that 1,200 tons of plastic waste will be recycled every year by 2024–the equivalent of 250 African elephants. The company has the potential to play an important role in addressing plastic waste and plans to use Mondi's financial investment and guidance to scale up and inform its long-term strategy and provide more secure jobs for local plastic pickers.
This investment will also enable the purchase of new machinery by Eco Blocks and Tiles to increase production. In addition to training 100 new roof masons, it will also fund marketing, advertising and exhibition costs.
Eco Blocks and Tiles were co-founded by Hope Wakio Mwanke and Kevin Mureithi in 2018. By creating value from plastic waste, the business contributes positively to SDG12 ' Responsible Consumption and Production. '