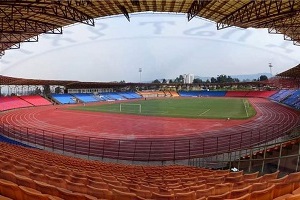 The renovated Abebe Bikila Memorial Stadium is set to inaugurate at the beginning of next month by Addis Ababa city administration. The USD 3.5 million renovation works are completed up to 96 percent remaining only floodlights and cladding to install.
Floodlights are in transportation, which will take another two weeks to install, whereas cladding installation is expected to be completed by 10 days.
Assembling 16,000 imported spectator seats, building a running track, installing sheds, and maintaining the football field is the key components of this renovation. Fekadu Alemu, sports project coordinator of the Addis Ababa Construction Bureau said that the stadium will spark additional beauty to the city.
The renovation work was given to Zhongmei Engineering Group in March 2017. After offering the lowest bid in the international bidding, Addis Ababa Youth and Sports bureau offered the contract to Zhongmei. The company had also worked on many projects, such as the construction of Afar Highroad project and subcontracted work of Megach Dam project.
Once the project becomes operational, the stadium is planning to rent out 63 nearby commercial places to youth for the recreational industry. Moreover, the capital city is planning to build five brand new stadiums in Nifas Silk Lafto, Yeka, Gulele, Bole, and Aqaqi Qality.