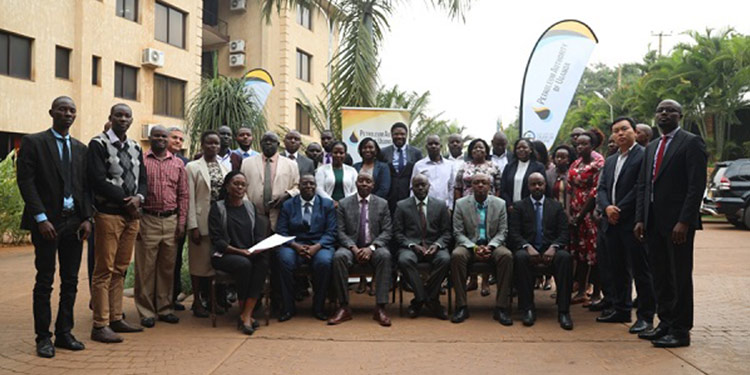 Alex Kakooza, the Permanent Secretary (PS) to the Ministry of Education and Sports (MoES) has introduced an association bringing together all individuals, academic training institutions and the training service providers in the Oil and Gas sector from the Government and private sectors.
Kakooza noted the need for the Government and private sector players to build inter-linkages with other Sector Skills Councils in order to bridge the training gaps.
The MoES is undertaking the Uganda Skills Development Project and the Albertine Region Sustainable Development Project under shade of the Technical and Vocational Education Training (TVET) Policy and the Skilling Uganda Strategy Plan which include the Oil and Gas sector.
'One of the interventions under the Albertine project is the scholarship program targeting six hundred (600) beneficiaries from the oil and gas districts who will train in the various government and private entities,' he said.
He advised the association to actively market vocational training as a first and not last resort and to also encourage girls to apply for the programs.
'International certification and accreditation improve the competitiveness of talent on the job market beyond the borders of the country,' he noted.
Robert Kasande, the Permanent Secretary at the Ministry of Energy and Mineral Development (MEMD) said the formation of this association is timely and expected to guide purposive skilling in the Oil and Gas sector.
'It is also paramount for institutions to indicate transferrable skills because oil is a finite resource. Therefore, people should be able to apply the skills acquired in the oil and gas sector in other spheres of life,' he added.
Kasande praised the various trainers for training two thousand (2,000) technicians and urged all the training institutions to register their trainees on the National Oil and Gas Talent Register (NOGTR) for the Government to take stock of the talent available and provide visibility of the talent to the potential employers.
Ali Ssekatawa, the Director for Legal and Corporate Affairs at the Petroleum Authority of Uganda (PAU) who represented the Executive Director noted that the formation of the association comes after ten (10) skills development dialogues among various stakeholders. The dialogues were a platform to share experiences, successes and challenges among the various stakeholder offering training services in the sector.
'The association will highly contribute to ensuring that only competent training institutions offer training services in the oil and gas sector, and only internationally certified students are channelled out,' he said, adding that the association can solicit for training support from government and development partners.