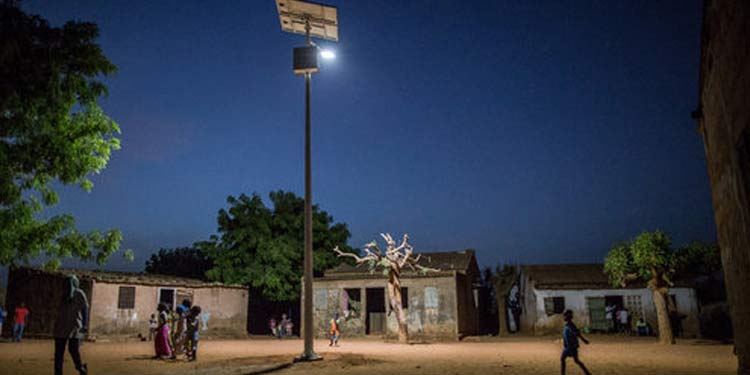 Musician Akon has provided 14 African nations with solar-powered electricity through street lamps and solar panels as part of the "Akon Lighting Africa" project aimed at providing low-cost, renewable electricity to the continent of Africa.
When you hear the word 'Akon,' the first thing that is likely to come to your mind is the ubertalented rapper responsible for a number of hit singles in the 2000s. Unless you did your homework, you probably didn't realise that Akon is also responsible for developing and spearheading 'Akon Lighting Africa,' a project aimed at supplying the continent of Africa with low-cost, renewable solar-powered electricity.
Akon, whose real name is Aliaune Thiam, spent a large part of his childhood in a city in Senegal that lacked electricity.
He witnessed first hand the challenges of living without grid power, including having minimal educational and economic opportunities, as well as struggling with quality of life and health issues.
From this experience, Akon Lighting Africa launched Akon Lighting Africa in 2014 with the aid of a billion dollar credit line with Chinese manufacturers of solar powered goods.
Interestingly, Akon and his partners initially intended to power the continent by gasoline and fossil fuels, but soon realised the cost effectiveness of solar power and how affordability would make it possible for more Africans to provide electricity.
In only one year, Akon 's initiative was a success storey by supplying renewable, solar-powered electricity through street lamps and solar panels to 14 African nations, including Guinea, Senegal and Sierra Leone.
Benefits that came from setting up such a large portion of Africa's solar powered population included encouraging outdoor vendors to remain open longer, allowing children to study longer without having to use harmful kerosene lamps, and reducing crime rates due to once-dark African villages being illuminated by solar power.
As we continue into the new decade, the ultimate aim of Akon Lighting Africa is to provide 250 million people with solar-powered electricity on the African continent by 2030. Additionally, Akon recently unveiled its newest African initiative, "Akon City."
Akon City is a 10 year project to develop a futuristic city in Senegal that will be completely powered by solar power and will use its own form of cryptocurrency, AKoin. Furthermore, Akon City will have an airport, hotels , schools, homes and a "billiondollar" hospital with 5,000 beds.