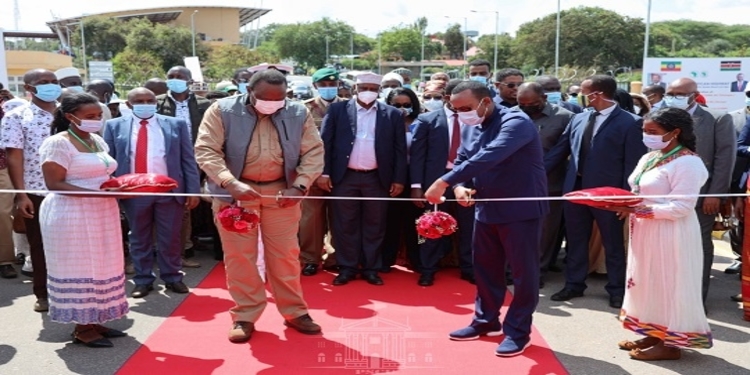 Kenya's President Uhuru Kenyatta and Ethiopia's Prime Minister Abiy Ahmed unveiled two big infrastructure projects in northern Kenya to improve trade between the two neighbouring countries.
The Moyale One-Stop Border Post (OSBP) and the 500-km Hawassa-Hagere Mariam-Moyale route, part of the Trans African Highway and a main Mombasa-Nairobi-Addis Ababa transport corridor segment, were inaugurated by Kenyatta and Ahmed.
Ahmed, who spoke at meetings on both sides of the border, said the new Moyale OSBP would help speed up the movement of goods and people across the border between Kenya and Ethiopia. "In my opinion, this artificial border is going to be destroyed with the new infrastructure. The new infrastructure would bind the two families together to tap into the market and economic potential and prospects," Ahmed added.
The Ethiopian PM said, Kenya and Ethiopia will continue to work together in the border area on infrastructure and in maintenance of peace and security along the border region. "We will concentrate on peace and security in this area, as well as on development, because peace is the cornerstone of all that we strive to transform the lives of these people," he added.
The two leaders also visited the coastal Lamu County, where they inspected the ongoing construction of the new Lamu Port, an anchor project of the Lamu Port-South Sudan-Ethiopia-Transport (LAPSSET) Corridor.
In his remarks, Kenyatta encouraged the use of the new infrastructure by traders from both countries, especially the OSBP, to improve cross-border trade. He said his administration attaches great significance to its cooperation with the government of Ethiopia in the implementation of joint infrastructure projects, adding that such efforts are aimed at improving the close bilateral relations between the two countries.
With the completion of this border post, Kenyatta said that the two countries have displayed diplomatic goodwill to resolve the problems and impediments facing companies on both sides. "In addition to promoting trade between the two countries, the border post would also strengthen reciprocal contact between our citizens and create cohesion and unity of mission," the Kenyan President added.
Kenyatta said the area has enormous untapped trade and investment opportunities, and urged local business communities to build on the OSBP to improve border-wide trade and investment. He also said his government will continue working closely with its neighbors to eliminate the identified trade barriers so as to increase the flow of business across regional borders.