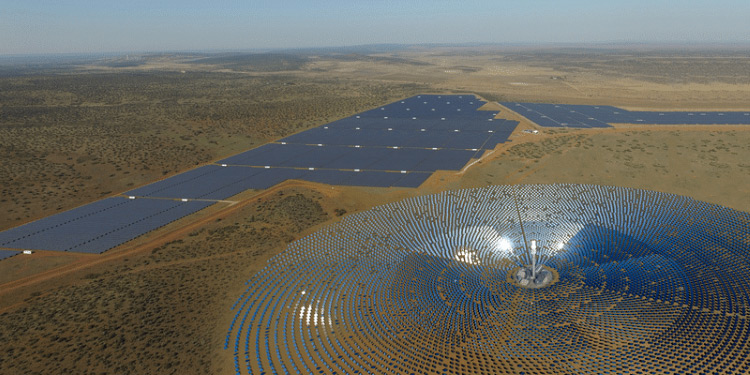 Saudi Arabian independent power producer (IPP) Acwa Power has just completed the financing of its Redstone concentrated solar power plant. The Saudi company has also announced the start of construction work on this facility, which will have a capacity of 100 megawatt.
The Redstone solar project is entering in its construction phase. The announcement was made by its developer Acwa Power, which has recently secured the necessary funding to implement this renewable energy project in the Northern Cape province of South Africa. IPP has raised R7 billion from the AfDB, Absa Bank, CDC Group, Development Bank of Southern Africa , Deutsche Investitions- und Entwicklungsgesellschaft , Nedbank, Nederlandse Financierings-Maatschappij voor Ontwikkelingslanden, Investec Bank and Sanlam Life Insurance.
This is an important milestone for this concession granted to Acwa Power since year 2015, under the Renewable Energy IPP Procurement Programme. The facility, which is now entering in its construction phase, will require a total investment of 11.6 billion South African rand, or USD828.4 million.
Commercial Operations to Commence In 2023
Acwa Power is part of a consortium that also includes Central Energy Fund and Pele Green Energy. The local community will also be a shareholder in the future solar thermodynamic power plant. The plant will have a 2tank direct molten salt storage system providing 12 hours of energy storage at full load, equivalent to 1,200 MWh of electricity generation, avoiding the need for back-up fuel. IPP plans to bring its CSP into commercial operation in the fourth quarter of year 2023.
The facility will have a capacity of 100 megawatt and will be able to power around 200 000 South African homes. "The Redstone concentrated solar power plant will displace approximately 440 metric tonnes of Carbon Dioxide emissions per year. The project is certified by the Climate Bonds Standard and Certification Scheme and aligns with the goals of the Paris Climate Agreement to limit global warming to below 2 degrees Celsius," says Acwa Power.
The Paddy Padmanathan-led company will sell its output to South African state owned utility Eskom under a 20 year power contract (PPA). To connect the plant to the national grid, a new 132 kV switchyard is to be built, as well as a 34 km long 132 kV transmission line.