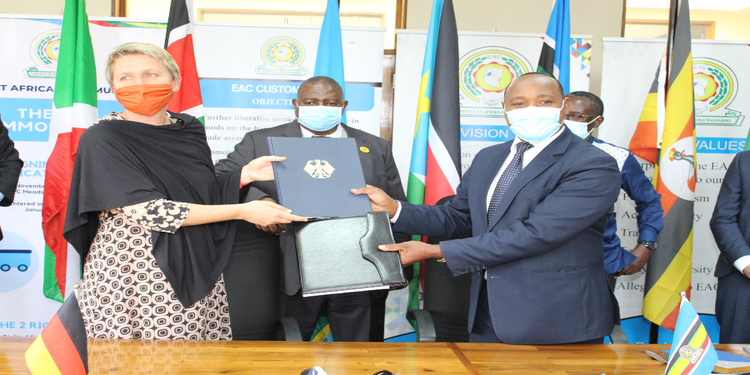 The East African Community and Germany inked two government agreements, paving the path for $65 million in initiatives in health, digital skills, and water resource management.
EAC Secretary-General Peter Mathuki and Regine Hess, Germany's Ambassador to Tanzania and the EAC, signed the accords.
In the health sector, sustained collaboration with the Regional Centre of Excellence for Vaccines, Immunization, and Health Supply Chain Management at the University of Rwanda in Kigali (17 million USD) would allow the centre to increase its competence and reputation.
This is particularly true in the fields of digitization in health supply chain management, cold-chain management, and quality control/drug safety.
Additionally, more funding (30 million dollars) have been released for the EAC's vaccination programme with Gavi, the Vaccine Alliance, which will help to reduce child morbidity and mortality in the area.
The funding will be used to purchase at least four different types of vaccinations (Pentavalent, Rotavirus, Pneumococcal, and Measles second dose), which will be used for routine vaccination and vaccination campaigns for children in all six East African Community Partner States.
The Lake Victoria Basin Commission (LVBC), an EAC entity, implemented the Integrated Water Resource Management Programme, which was successfully launched in mid-February 2020, will be replenished (by $12 million) to fund additional efforts to improve water quality and availability in the Lake Victoria Basin via strategic and long-term management.
To develop digital skills and innovation in East Africa, the Secretariat and Germany decided to carry out the project "Digital Skills for an Innovative East African Industry" (dSkills@EA), which builds on the success of the project "Centre of Excellence for ICT in East Africa."
"We can look back on more than 20 years of fruitful collaboration with the EAC Secretariat. We are committed to maintain this partnership in important sectors as as health, trade and economic infrastructure, and technical and vocational education and training under your new leadership of the EAC Secretariat, Hon. Secretary General Mathuki," Amb. Hess added.
"The signing today of two government agreements on development cooperation totaling 65 million US dollars (EUR 53.8 million) underscores the Federal Republic of Germany's commitment to supporting EAC integration. "I intend to continue to enhance our partnership," Dr. Mathuki stated.
According to Secretary-General Mathuki, the EAC is well on its way to implementing the Customs Union, Common Market, Monetary Union, and Political Federation.
"We will learn a lot from the EU in building the Monetary Union, particularly in terms of how it built up the Eurozone and its experience with a single currency. In terms of the Monetary Union, we plan to compete with the best," he continued.