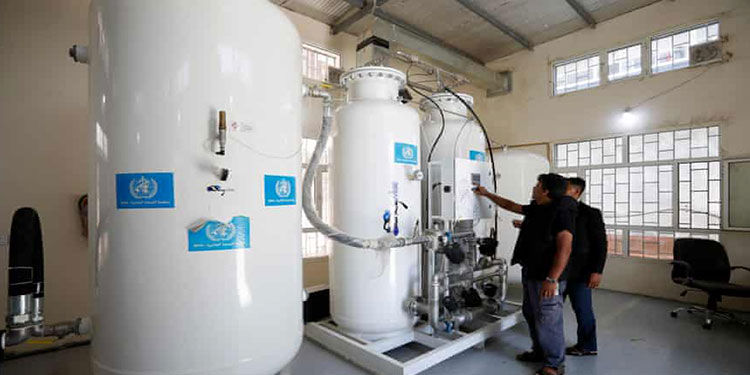 As part of measures to combat non-communicable and communicable diseases, including the Covid-19, the government has purchased seven medical oxygen generators, which will be put in seven regional referral hospitals around the country.
The equipment were imported in February this year, Prime Minister Kassim Majaliwa told Members of Parliament in Dodoma when tabling his office's budget projections for 2021/2022.
The equipment, which can produce 200 oxygen cylinders each day, will be installed in regional referral hospitals in Amana, Dodoma, Geita, Manyara, Mbeya, Mtwara, and Ruvuma, according to him. In addition to the machine repairs, the hospitals have been given 74 cylinders each.
"Each oxygen machine that will be installed in the hospitals will have the potential to deliver oxygen to approximately 18 health facilities, an advancement aimed at strengthening health service provision in attempt to improve present and future challenges," Mr Majaliwa said.
Emergency departments, maternal and child health, theatres, and Intensive Care Units are among the places that will benefit from the oxygen service, according to him (ICUs).
The government aims to install 12 more such machines in the coming fiscal year, according to Mr Majaliwa.
He also stated that the government has continued to prioritise public health by constructing and improving health facilities, providing specialised services, and increasing the availability of medicines, medical supplies, vaccines, and reagents.
He stated that the government has strengthened specialised services to allow Tanzanians to access services within the country, saving a significant amount of money that was previously spent on seeking services abroad.
In addition to ongoing infrastructure improvements in health facilities across the country, the government has increased the availability of medicines and medical supplies, he said.
"Until the end of the fisical year 2020 – 21, a total of 74.30 billion/- was spent in procurement of medicines and medical supplies in all public health facilities, of which 15 billion/- was spent on vaccines," he said.