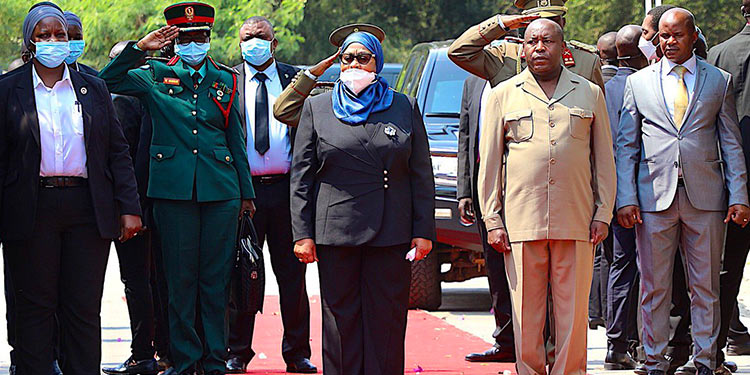 President Samia declared at a news conference in Dodoma after hosting President Ndayishimiye that their talks focused on connecting the two nations by building the 240-kilometer Uvinza-Msongati-Gitega railway line. At least 160 kilometres of the route will go through Tanzania.
'The DRC has also shown an interest in participating in the project by building a railway line that will run from Uvinza-Uvira-Burundi to Kindu in the DRC,' stated President Samia.
When finished, this line will aid in the transfer of export oriented products from the DRC and Burundi to Dar es Salaam's port.
This will greatly favour Tanzania over other economies, particularly Kenya, which has recently revitalised its ports in Mombasa, Lamu, and Kisumu in order to take advantage of the predicted trade boom.
'The three countries (Tanzania, Burundi, and the Democratic Republic of the Congo) signed a memorandum of understanding and cooperation on this project in January this year,' said President Samia, 'to enable the transportation of goods, especially minerals — including nickel from Burundi's famous Msongati mine — to the port of Dar es Salaam so that it can be shipped to the international market.'
'Tanzania has already granted the Nickel Company a licence to build a mineral processing factory and to create a market for Burundi's nickel,' she noted.
She stated that work on the SGR lines connecting Dar es Salaam, Tabora, and Mwanza, as well as Tabora-Uviza-Dodoma, is already underway. The SGR project in Dodoma and Bujumbura is now seeking funds. During Samia's official visit to Burundi in July, the two presidents asked their finance ministers to look into methods to raise cash for the Uvinza-Msongati line.
'Experts from both countries have finished the review process,' the Tanzanian leader stated, allowing the two countries to seek for a loan to pay the construction.
'Because we haven't been able to properly use our resources, we're looking for Tanzanian partners and experience to help us grow this industry.' 'A Memorandum of Understanding on collaboration in this area has already been inked,' Ndayishimiye stated. 'To strengthen its steel industry, Burundi will import coal from Tanzania shortly.'
President Ndayishimiye, who was in Dodoma for a three-day visit, travelled to Dodoma's industrial district, where Burundian business Itracom is building a USD 180 million fertiliser factory, after the meetings, which also covered trade and security. The project is planned to generate 600,000 tonnes per year when it is finished in August 2022, meeting Tanzania's yearly need of 400,000-500,000 tonnes while also boosting agricultural productivity.
Tanzania's National Backbone ICT Trunk, which connects Burundi and the rest of the EAC, was also reviewed, as were health services, which focused mostly on specialised facilities to battle Covid-19, and immunisation.