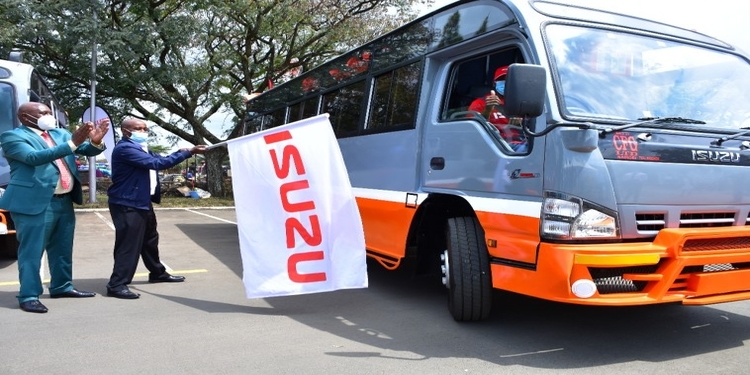 Isuzu East Africa has inked a vehicle leasing agreement for Ksh. 300 million with Super Metro PSV Sacco for the purchase of 50 Isuzu NQR 33-seater buses.
On a lease arrangement arranged by Co-op Bank Fleet Africa Leasing, Super Metro took ownership of the first batch of 14 buses from Isuzu.
The deal reflects SMEs' increased preference for leasing automobiles rather than outright purchase in Kenya. This is a method of reducing capital investment while increasing efficiency. In July 2020, Isuzu East Africa launched a leasing solution for PSV customers sponsored by Co-op Bank Fleet Africa Leasing to assist resuscitate their companies impacted by COVID-19 curfews and lockdowns.
Coop Bank Fleet Africa Leasing provided 100 Isuzu 33-seater buses to Metro Trans and Super Metro as the initial recipients.
Isuzu East Africa Managing Director Rita Kavashe said the business was looking for further methods to make Isuzu cars more accessible for consumers at the handover of the 14 buses.
"It is reassuring to notice that no deposit would be required in this financing option, which should enable Super Metro PSV Sacco repay their investment faster. The chassis is given by Isuzu, the body is produced by Central Farmers Garage (CFG), and financing is provided by Co-op Bank Fleet Africa Leasing, a typical illustration of how the "Buy Kenya Build Kenya" campaign can assist rejuvenate our economy," Rita remarked.
In Nairobi, it is estimated that 42 percent of the population walks every day, 48 percent rides a matatu, and 5 percent drives a private automobile. The majority of the population is largely reliant on public transportation.
Isuzu EA has been in the forefront of this approach, leasing approximately 1,000 cars to the country's government, big corporations, and SMEs. This is done to save expenses, ensure adequate vehicle maintenance, and improve mobility in their regular operations.