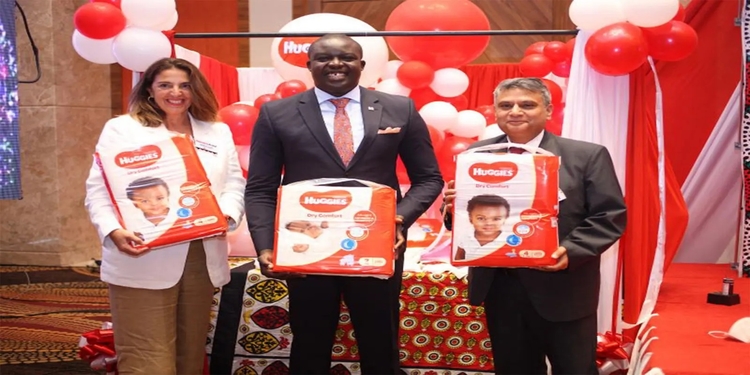 Kimberly-Clark, the world's largest diaper manufacturer, has inked a KSh5 billion (US$45 million) contract to begin production of Huggies diapers in a newly built factory in Thika.
The company signed a deal with a local manufacturer, Sai Pharmaceuticals, to start manufacturing and distributing the diapers in Kenya, as part of a strategy to invest in locally produced solutions.
Kevin Achieng, Kimberly Clark Business Development Director Middle East and Africa, explained during the announcement of the partnership that the decision to produce the brand locally was made to provide high-quality and inexpensive items to Kenyans.
"Every year, one million infants are born in Kenya, and 8 million are born in East Africa; this is a significant amount that indicates Africa's growing demand for high-quality, inexpensive hygienic products," Achieng added.
According to Rajiv Joshi, Chief Executive Officer of Sai Pharmaceuticals' Hygiene Division, the partnership will enable Kenya to join the ranks of African countries such as South Africa and Nigeria that use contract manufacturing to save costs.
"The negative impact of Covid-19 on global supply chains has accelerated our decision to invest in home-grown solutions that will ensure a continuous flow of high-quality hygiene products like diapers for Africa's markets," Joshi added.
David Osiany, Cabinet Chief Administrative Secretary, Ministry of Industrialization, Trade and Enterprise Development, who was also present, said the cooperation would benefit the country by creating jobs and improving skills transfer in the manufacturing of high-quality hygiene products.
"Such investments bring us closer to our aim of increasing manufacturing's contribution to 15% of GDP, up from the current 9%, as part of the government's Big Four Agenda," Osiany added.
Kenya's government is pushing for contract manufacturing to get around the global supply chain's problems, which intensified during the pandemic. Manufacturers, according to David Osiany, should learn from Covid-19's lessons.
Contract manufacturing, according to Osiany, will ensure that major companies profit while also providing work for locals.