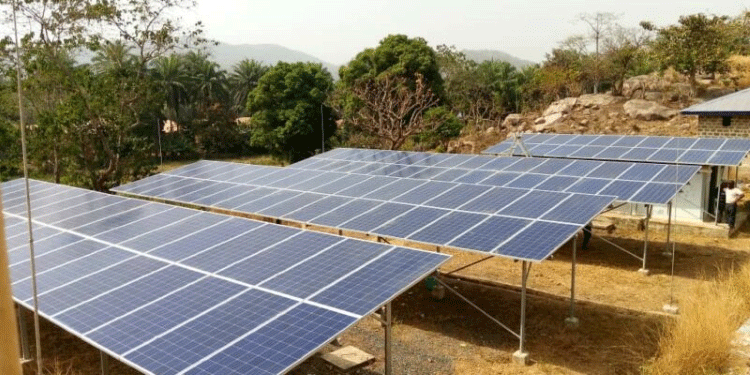 Engie PowerCorner, a subsidiary of the French group Engie, has obtained a license from the Beninese Agency for Rural Electrification and Energy Management to install a containerized solar mini-grid in Dohoue in southern Benin. The company plans to deploy 22 solar mini-grids in rural Benin by year 2023.
Engie PowerCorner is strengthening its position in Africa. The subsidiary of the French group Engie has just obtained the approval of the Beninese Agency for Rural Electrification and Energy Management for the electrification of Dohoue, a village located in southern Benin. The company will install and operate one of its containerized systems that it builds in rural areas of several African countries.
This modular system consists of solar panels covering a container. The shipping container is equipped with inverters and batteries to store electricity for on-demand redistribution after sunset or in bad weather. The containerized mini-grid installed in Dohoue is expected to be powerful enough to provide electricity to 1,500 people.
A project that leads to others
"This electrification project should give a boost to the economic development of the local community. It also means a much-needed support for women, through the realization of income-generating activities for more empowerment and financial inclusion," explains Gillian-Alexandre Huart, Managing Director of Engie Energy Access. This project is the 1st of a series of stand-alone solar systems that will be installed in Benin in the coming months.
Engie PowerCorner plans to build and operate 22 containerized solar mini-grids in rural areas between 2022 and 2023. These installations will have a capacity of 2.4 MWp and will provide electricity to 30,000 people in 3 departments. The electrification project will be co-financed by Engie PowerCorner with Millennium Challenge Account, through its Millennium Challenge Account Benin II (MCA-Benin II) program. This bilateral development fund will co-finance Engie's green mini-grids under the Off Grid Clean Energy Facility.
This facility set up by MCA-Benin II aims to increase access to electricity for the currently unserved population in rural and peri-urban areas of Benin by reducing barriers to investment in the off-grid energy sector. Engie PowerCorner's containerized mini-grids that will be at the centre of this electrification project are already providing electricity to 25,000 households and 150 microenterprises and community infrastructure in 13 African villages.