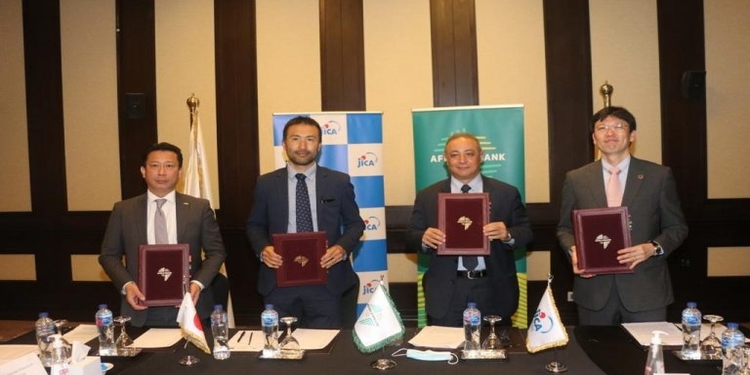 The Japan International Cooperation Agency (JICA) and the African Export-Import Bank (Afreximbank) signed a financing arrangement worth up to $200 million to assist COVID-19 solutions through private sector investment and finance.
Sumitomo Mitsui Banking Corporation (SMBC) and Mitsubishi UFJ Financial Group will co-finance the loan (MUFG).
The COVID-19 pandemic has wreaked havoc over the African continent. The pandemic has hampered social and economic activities, resulting in the worst GDP growth rate in history in 2020, with -1.7 percent in Sub-Saharan Africa and -1.1 percent in North Africa, according to the International Monetary Fund.
Provision of health and medical services, especially COVID-19 immunisation, is critical for a smooth recovery from the pandemic. Furthermore, the COVID-19 pandemic indicated that Africa lacks medical and pharmaceutical supplies, as well as infrastructure such as hospitals, and that the continent's healthcare system is in poor condition. As a result, it is vital to improve its healthcare system.
Afreximbank is an African multinational financial development organisation with 51 members. Since the coronavirus first emerged, it has been assisting Africa in reducing the virus's impact.
The loan will be used by Afreximbank to support the development of local production capacities for vaccines and medical products, with the overarching goal of increasing African countries' self-reliance in their pandemic response and reducing their reliance on non-African products and international supply chains.
Through Afreximbank, the JICA loan will be utilised to develop medical and pharmaceutical products, including vaccine manufacturing lines, supply bases for such products, and medical and health facilities such as hospitals.
It will also mobilise the capital of Japanese commercial banks in the continent. This will result in a more robust healthcare system and a faster recovery of social and economic activity following COVID-19.
Goal 3: Good health and well-being, Goal 9: Industry, innovation, and infrastructure, and Goal 17: Partnerships for the Goals are all associated with it.
This loan arrangement will also be governed by the SMBC-JICA Sustainable Finance Framework.
Africa is extremely reliant on imported vaccines, with imported vaccines accounting for 99 percent of all vaccine doses on the continent, whether for COVID-19 or other diseases.