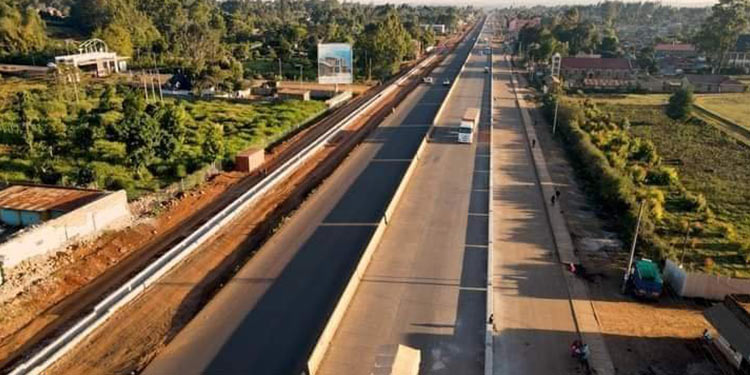 The contract value for the project is USD 163 million (Sh18.7 billion).
The Kenya National Highways Authority (KeNHA) has announced that the long-awaited improvement of route A104 from James Gichuru junction to Rironi would be finished in January 2023.
The USD 163 million James Gichuru Rironi Road extension began in August 2017 and is expected to be completed in August 2020. (Sh18.7 billion).
However, owing to extra work, which included the building of a full interchange at Gitaru to allow for continuous traffic movement between the highways, this did not materialise.
The project was also delayed owing to land acquisition concerns, which have subsequently been addressed, with compensation plans in the works for all those affected.
'After its scheduled completion in January 2023, the James Gichuru-Rironi Project would be a huge game-changer for urban and transit traffic in Nairobi and Kiambu counties,' said KeNHA director general Kung'u Ndung'u in an interview.
James Gichuru Road/ Waiyaki Way Jn – Rironi is being built by China Wu Yi, which contains 26 kilometers of the main road and 17.5 kilometers of collector roads.
Following the World Bank's departure in 2019 due to project delays, Kenya's government has completely financed the James Gichuru-Rironi road extension project.
The World Bank planned to provide 80% of the Sh18.7 billion in the initial funding conditions, with Kenya slated to cover the remaining 20%.
The project stagnated due to the absence of funds to pay investors who gave up land for the road, prompting the World Bank to withdraw from the project.
When the World Bank sponsors a project, it does not pay compensation or land acquisition loans as part of its funding policy.
Meanwhile, the China Road and Bridge Corporation (CRBC) is finishing up the 27.1-kilometer Nairobi Expressway in preparation for a planned test drive that would pave the way for the road's formal inauguration.
The CRBC, which is developing the Sh88 billion roadway as a concessionaire, expects to repay its investment through toll payments collected from cars that use the expressway.
Along the road, there will be ten tolling stations.