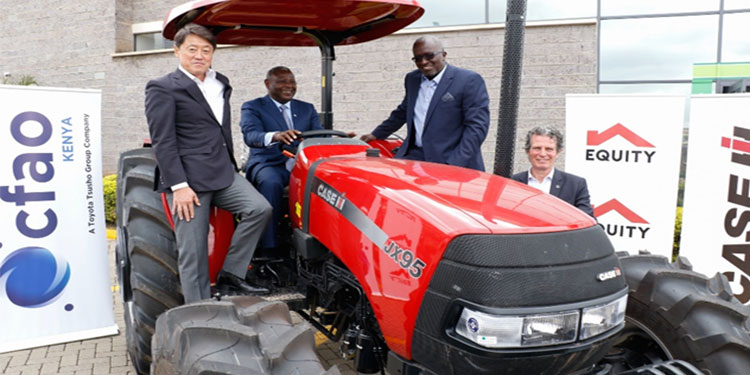 Equity Group, a holding firm for financial services, has teamed up with CFAO Kenya Ltd. and CFAO Agri Limited (CFAO Group) to offer farmers 80 percent financing so they may buy farm inputs and equipment like tractors.
In order to improve food security and provide small-scale farmers with the tools they need to farm in the future, the three organisations want to make farm inputs and equipment readily available to local farmers and other key actors in the agriculture value chain.
Farmers will be able to modify their payback terms under the financing plan based on the agricultural season, which will encourage a greater usage of mechanisation in agriculture.
"We are making every effort to boost agricultural output. Equity Group Managing Director and CEO, Dr. James Mwangi, stated, "We want to protect the values and aspirations of our people, and with agriculture accounting for nearly 65 percent of foreign exchange, 40 percent of employment—40 percent of which is in rural areas—and 33 percent of Kenya's GDP, this is important for us at Equity.
"I applaud CFAO for emphasising what is important to our people. Given that CFAO is present in 53 African countries, Equity is pleased to cooperate with them and hopes to grow their relationship beyond the national level and into the regional sphere.
The cooperation will allow farmers and other participants in the agricultural ecosystem to continue receiving accessible financing from Equity, giving them the chance to buy Case IH and Captain tractors using the Bank's asset finance credit facilities.
According to CFAO Chairman Ambassador Dennis Awori, "Africa is gifted with favourable environment that allows farmers to grow food throughout the year, a potential that the private sector can harness through partnerships like the one between CFAO and Equity Group."
Equity has introduced the "Africa Recovery and Resilience" Plan, a KSh700 billion (US$5.94 billion) stimulus programme that aims to support various economic sectors, with agriculture productivity and ecosystem financing and development – from production to distribution to retail to customers – at its core, in order to champion the improvement of the African economy.
Thomas Bernard, chairman of CFAO Agri, stated that the organization's goal is to assist farmers in increasing their yields and embracing commercial agriculture as opposed to solely engaging in subsistence farming.
"I appreciate Equity for this connection, which will help smallholder farmers a lot. Agriculture is an unpredictable industry, therefore it's critical that private sector parties work together to provide funding, mechanisation, and fertilisers to assist mitigate the risk.